Hoodies are the girl's favorite clothing item. You definitely own 2 to 3 pair of hoodies in your wardrobe for that cozy and comfy look. Some girls believe that this clothing piece is not for outerwear but this is not the case. You can rock the streets in your hoodies by few styling tips. Here are few trending ways to go with your hoodies:
Hoodies on skater skirt
Hoodies on skater skirts are super cute. You can go with the any color hoodie in contrast to the skirt you wear. This looks amazing on every girl and gives you the girly vibe. If you are going with this outfit in fall season, you can wear a pair of mesh stockings under the skirt and to complete the look choose your favorite ankle boots.
Crop hoodies on high rise jeans
If you don't want to hide your feminine curves under the loose hoodies, you can go with the crop one on the high rise jeans. This will give you the balanced look and will maintain the sleek look that you are looking for. There are many options available in these hoodies but nowadays graphic hoodies are most trending.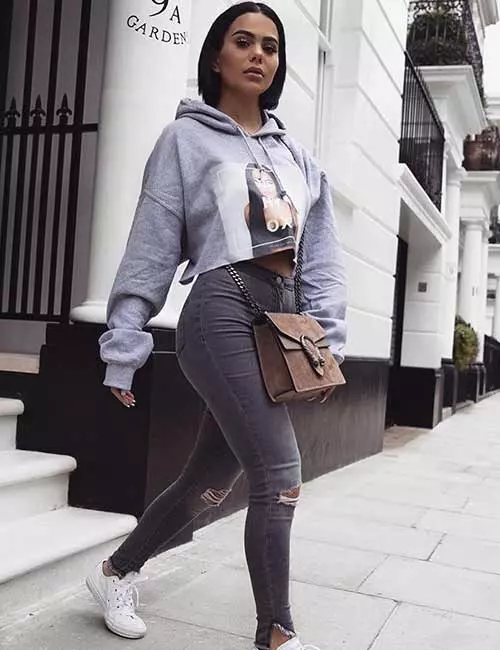 Dress hoodie
Dress hoodies are something that you should definitely try once. This will make you look extra beautiful without much effort. Choose one solid color in this dress hoodie and pair it with the same knee high boots and a statement handbag. This outfit is super easy and will give you a chic look instantly.
Camouflage hoodies
Camouflage print is never going out of trend as girls love them. You can choose a camouflage printed hoodie to get that stylish look. There are many girls who love this print in their crop hoodies. Pair it with high waist black jeans. For more street style look choose the ripped pair of jeans on this hoodie.
Leather jacket with hoodie
Leather jacket paired with the hoodies is the most popular trend that people follow. Choose the neutral color hoodie for this look and go with the ankle length boots. This look is extremely outgoing and you can enhance the entire look by your favorite pair of statement glasses.