Do you know that scent, emotion and memory are intertwined? Our sense of smell is one of the most powerful senses we possess. Scent evokes memories that could be memory of a certain event or a loved one. Just a whiff of that familiar scent can trigger all sorts of emotions or memories and that would let us relive the exact moment be it a joyful, sorrowful or love emotion.
Fashion and fragrance go hand in hand. Many of our favorite perfumes come from the designer houses such as Gucci. Everyone of us have different clothing personalities such as dramatics, classics, naturals and romantics. Very often we express our clothing personality in many areas of our lives such as our home decor choices, events that we enjoy, interests and also the perfume that works for us. As such, we can create a sense of togetherness by making our scents work with our clothes and accessories.
Gucci has been curating fragrances that are suitable for women of all ages. It is well known for its luxurious and quality clothing, accessories and perfume range. Gucci has perfumes that range from sensuous to sweet and feminine. from sultry and sensuous to sweet and sugary. Below are some of Gucci's well-known perfumes for women :-
Gucci Bloom
The Gucci Bloom perfume is available in four variants such as the original Eau de Parfum, Gucci Bloom Acqua di Fiori, Gucci Bloom Nettare di Fiori and Gucci Bloom Gocce di Fiori. The original heady floral scent celebrates strong and authentic women. Gucci Bloom Acqua di Fiori encapsulates the beauty of innocence and celebrates the vitality and energy of friendship. It is a lighter, fresher and greener scent.
Gucci Bloom Nettare di Fiori explores the mysterious and intimate character of a woman. It has the original fragrance with the additional Rose and Osmanthus flower for a stronger floral scent. Gucci Bloom Gnocce di Fiori is a lighter version of the original fragrance. It is perfect for a woman who enjoys the subtler things in life and
Gucci by Gucci
This Gucci perfume has a sophisticated floral fragrance that is best suited for women. It has a very exotic scent with top notes of guava, mid notes of tahitian tiare flower, and base notes of patchouli, musk and honey.
Gucci Guilty Eau de Parfum
Gucci Guilty is a simple yet stronger basic perfume for women. It consists of a mix of fruity and floral fragrance and is a powerful scent for women.
Gucci Rush Eau De Toilette Spray
The Rush Eau De Toilette Spray by Gucci has a tinge of spicy, floral fragrance that is irresistible and lingers to leave a trace of the scent wherever you go. The perfume is presented in a video cassette tape-shaped, bright red box, which is pretty unique in its own way.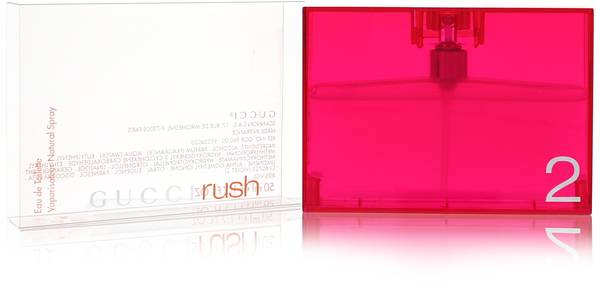 Gucci Envy Me Eau De Toilette Spray for Women
Envy Me by Gucci is made for the bold, young woman.  It has a sweet fruity-floral and fresh, musky accords that is irresistibly seductive.
So have you found your favorite new signature scent?