With the changing fashion trends, several news styles of dresses are launched in the market. Among these, A-line dresses are every green and loved by ladies. They can be worn on any occasion, be it a party or a night out. These styles of dresses are fit to your waist and then flare out. You can find a huge variety of these dresses. From floral prints to lace detailing, there is a wide collection from which you can get one as per your needs.  
Off Shoulder Floral Print Dress
If you are looking forward to attending any wedding party or special occasion then it can be an ideal choice. Its off-the-shoulder pattern will allow you to show your skin and look elegant at the same time. In addition, it's beautiful floral print will give you the perfect feminine look. The best thing about the dress is that it is made from high-quality fabric that allows you to wear it comfortably.
Sleeveless shortcut A-line dress
This beautiful dress can be worn on a romantic date or candlelight dinner to please your partner. This freeflow A-line dress has a rounded neckline and a V back neckline. The sleeveless pattern and the floral prints add to the look of the dress and you will look beautiful in it.
Half-sleeve stitching lace A-line dress
This a-line dress is the best option for several festivals like Christmas. You can comfortably wear it without any problem as it is made with superior fabric. It also has a waistband that s it to properly hug your waist and gives you a slim look.  the lace detailing and delicate craftsmanship make this dress a masterpiece.
Leaf- printed black and white a-line dress
This is the perfect dress for formal wear and you can feel confident while wearing it for a meeting. The dress has a sleeveless pattern and leaves printed all over. The beautiful combination of black and white makes it look amazing. The best at the waist adds to its beauty.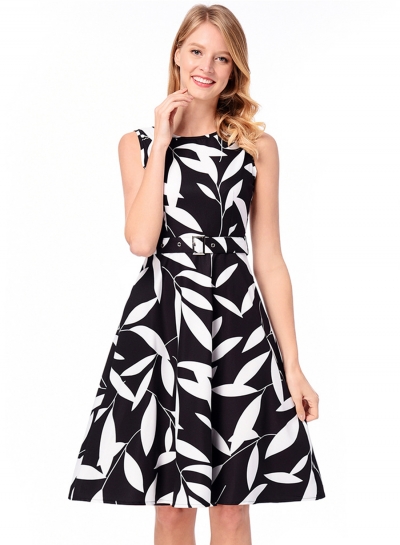 Halter neck a-line skirt dress
This sexy looking dress is one of the best options if you want a bustier look. The dress is made up of satin fabric which makes it the best for parties. The halter neck design allows you to show off your clavicle and the high low umbrella skirt design gives you a sexy look. You can pair up this dress with high heels to add to your personality.