Floral dresses do have a unique fashion style. They are free-flowing attires that make you feel comfortable and relaxed. You can wear floral dresses on any occasion like weddings, birthday parties, workplaces, etc. They give you a pretty as well as sexy look. Floral dresses are in trend for several years but never got outdated. Floral dresses give you an eye-catching look. They come in varieties of dark and light shades. You can complement your floral dress with shoes, jackets, high heels, etc.
The best floral dresses that are trending in 2020 are as follows.
Floral midi dress
This beautiful dress has front button closure, low back, and lace details that give it a sexy look. The V-shaped neckline and halter strap attach with it that ties at the back and gives you sexiest look.  You can pair this floral midi dress with matching heels and earrings.
Floral inclined maxi dress
Look like a princess with this beautiful and flowy floral print dress. It has a deep V shape neckline. This floral maxi dress is sleeveless and has straps on the shoulder. It has a tying waist and the dress flows fairly from the waist. This gives you the feel of a princess. You can complete your look with strapped high heels.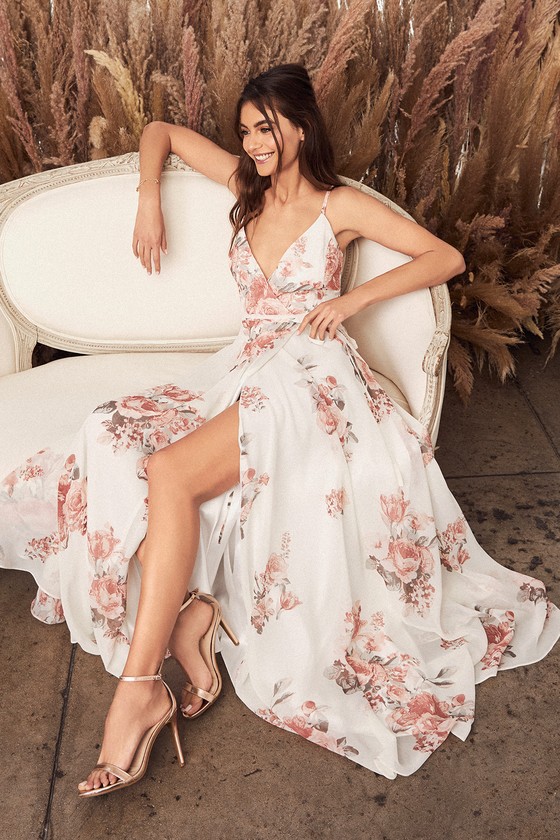 Deep V halter floral dress
This is sleeveless dress and has thread-like straps that create a bold look. It has a deep V-shaped halter neckline that gives you a sexy look allowing you to show off your curves. The mini skirt of the dress enhances the overall look. You can pair it with matching accessories and high heels.
Floral shift dress
This beautiful flora print dress is perfect for a night out. It has buttons at the front and ditsy floral print all over the dress. This shift dress has puffed sleeves and gives you the coolest look. You can pair it with hoop earrings and sandals.
Ruffled floral dress
It is a long length dress with flowy fabric and floral print all over it. This is an off-shoulder dress that has ruffled details that make its look more attractive. It has an asymmetrical neckline and has elastic on the neck. This ruffled floral dress has short sleeves and an adjustable drawstring at the waist.
Floral trumpet sleeves dress
It is crafted from lightweight cotton that makes it more comfortable to wear. It has a flared skirt with inverted pleats. This floral dress has trumpet sleeves and buttons on the shoulders. It includes inner petticoat. Overall it will give you a fairy look.