All the women love to go on a beach during the summers. Whether it is a beach party, beach date or you want to spend some time listening to the sound of the waves, a perfect beach dress is a must to make you look stylish. The beach outfits are the most comfortable that you can style in. There are endless options when it comes to beach dresses. Some of them are given below.
High shine maxi beach dress
It has a deep plunge neck that gives you the sexiest look and shows your sexy beauty bone. The wide straps on the shoulders and splits from the both sides below the waist add to the gorgeous looks. It has a loose fitting cut and has an open back with a tie. It is made from shiny metallic fabric that is extra smooth and stretchy and creates a soft and flowy movement. You can compliment this beach dress with strappy high heels and a sling necklace.
Off- shoulder beach dress
It has an elastic off-shoulder neckline with a short length. It has short elastic sleeves with a beautiful side tie at the end. It also has a shift lined bodice. It is comfortable to wear, as it is a loose fit dress that is perfect for the beach. It gives you the hottest look. You can complete your look with a hat, high heels, and your favorite accessories.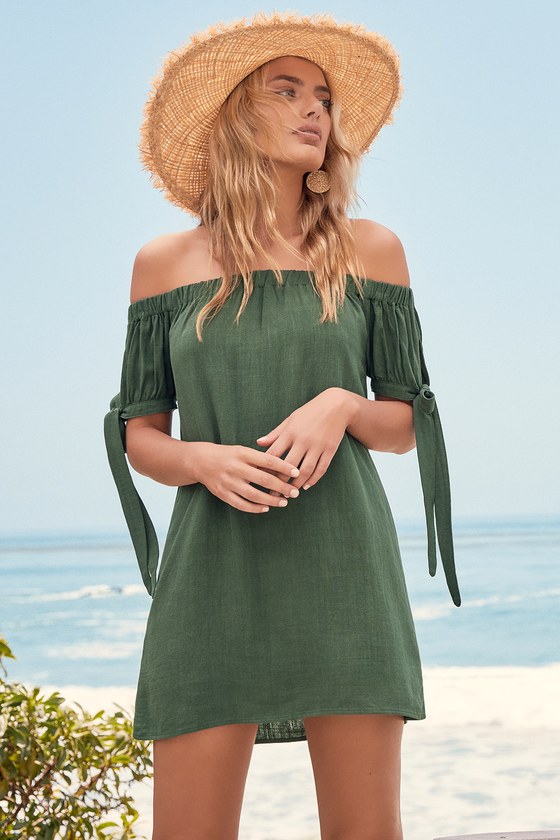 Frill split beach dress
It is a maxi length beach dress that covers the bikini. It has a deep V- neckline with frills on both sides and thin straps on the shoulders. It splits at the front with one side frill and makes you look hot and stunning. It gives the vibes of the poolside party. You can pair it with small earrings, necklace, and heels.
Multi butterfly ruched beach dress
It has thin straps on the shoulders with ruched detailing and a broad neck that gives you a stunning look. It has leopard print all over it with multiple butterflies. You can pair this dress with a matching bikini and complete your look with simple accessories. This beach dress is a perfect piece to complete your holiday look and gives you the prettiest and sexiest look.
One- shoulder high and low beach dress
It is a one-shoulder beach dress that has wrap design at the chest. It is also wrapped at the waist. It is high from the sides and low from the back and front. It is tightly fitted at the waist. You look sexy when you complete your look with simple accessories and heels.