Do you have a habit of putting on blush?
For a long time, I avoided using blush. I don't even know what the reason was. I was probably afraid of making a mistake. When I finally decided to use blush in my daily make-up, I got prettier. I got a special glow, freshness and complexion. Even with the help of tricks for applying certain colors, I got a completely different face shape. Do you use blush during the day? For work or for a walk?
Errors when applying blush
I decided to write about this topic because I think the blush is a bit neglected. I see that my friends rarely use it. The first association with blush is a red circle on their cheek. I agree that we should not apply blush incorrectly. The most common mistake is too much blush, which seems very aggressive and unnatural. But the special application techniques will not make you look like you have applied blush. I always advise you to apply a thin layer and remove the excess blush from the brush. Follow the password – less is more.
How to choose the color of blush?
It is difficult to choose the right formula. The shape of the face should be taken into account, as well as the color of the complexion and hair. These are all things that affect how your blush will look. But slowly, step by step. Makeup is a technique that has been taught for a long time. That's how I learned. And I continued to improve. It is always better to put less blush and add it if necessary than to overdo it at the beginning. As for the color of the blush, feel free to experiment. That way you will get the best results. When you are free, try different colors. You will see which hairstyle and clothes which color suit you best. If you also apply bronzer, then avoid dark brown and orange shades of blush. It would be too much. Don't ask how I know. I tried.
Blush for a lighter and darker tan
If your tan is lighter, avoid dark shades, stick to pink and reddish. And if you have a darker tan, do not choose those light shades, but darker ones, like brownish.
Oddly Colored
These were some basic things in the beginning, and now we can move on to experimenting. Why not try something completely different and deviate from the rules? The rules are sometimes there to be broken. And life is one and we should try everything we want. Sometimes we may make mistakes, and sometimes we may be thrilled with the result. Unusual colors on the face can look great if we combine them nicely. I will present some of my suggestions here. And you be brave to try something new. Goodbye to classic shades like pink and peach shades.
Orange
Maybe you're in shock now. But the orange color is not reserved only for summer. And it's not just for lipstick. I absolutely suggest you try this blush as soon as possible. You will be surprised at how much younger you will look. Go ahead with new shades. Don't forget that in summer we have a darker complexion due to sunbathing and that some other shades of blush can look great on us. Just be careful with the amount of product. Don't overdo it when it comes to these stronger shades.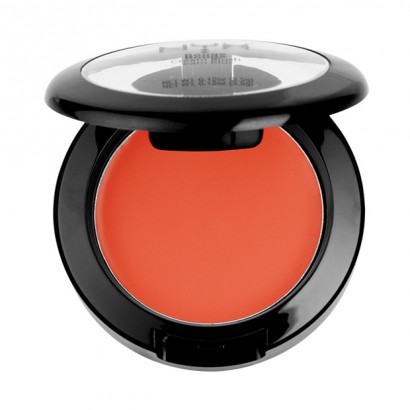 Red
Now you think I'm crazy, don't you? How red blush? Just try it. I was surprised too, but oddly colors sometimes look too good. You will get a new look, gentle and romantic. The rest of the makeup can be more neutral, to emphasize the blush.
Purple
If you can't imagine these previous shades, try this one. It's not that striking, but it's unusual again. Sometimes the right thing is to be unique and stand out. That's why I love authentic people. They are not afraid to try everything and wear what suits them best. This is a great shade that will bring a smile and freshness to your face. The right shade for the year. And it can be worn in winter in a thin layer. What are your favorite shades? Do you use some crazy colors? I am open to all experiences and unusual colors.